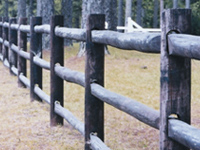 Unhappy with your horse fence's appearance?
Turn either your oak, CCA, or faded creosote fence into a nice, fresh, Kentucky black! Enhance your horse fence with coatings by NuTone Painting Systems (NPS). NPS has been restoring and revitalizing fences for General Timber customers for over three decades.
NPS fence coatings services provide the opportunity to amplify an oak, CCA or faded creosote fence by turning it into a striking Kentucky black. In addition to reinforcing your horse fence's appearance, coatings from NPS's services offer the protection necessary in maintaining its longevity; this is the perfect solution to those looking to restore a weathered fence.
General Timber Inc. is a family-owned company based in North Carolina that operates on the notion of offering a valuable product at a reasonable price. Our staff works hard to produce the highest quality products without compromising the environment. We also take great pride in working with contractors who will provide you with quality, affordable services on your farm. From horse fence installation to board and rail fence coatings, we bring decades of experience to each project.
Operating as a green company, we appreciate the environment in addition to the animals and people in it. Rest easy knowing that all coatings are environmentally friendly and safe for your family farm and all of its livestock.
To receive a free estimate for horse corral & fence coatings, please contact NuTone Painting Systems at 910-695-5743 today.
---
Recent Reviews
General Timber
Average rating:
2 reviews
Sep 28, 2021
NuTone Painting Systems
I was first referred to General Timber Inc. in the mid 1980's. Their fencing crew promptly came to our farm in Rougemont, NC, bringing all their materials and erecting board pasture fencing for us with creosote materials. That exact fencing still stands tall and straight today. We added another half mile in 1995.....and another in 2015. Their fencing materials and methodology have stood the test of time. We have been further fortunate to have secured the services and expertise of Mr. Greg Williams and NuTone Painting Systems to professionally coat and renew our fencing throughout our property. The use of quality materials, and the completely expert and professional application of those painting materials far exceeds what I have been able find elsewhere. We were happy in 1985 and happy when the crews left here recently. Our relationship with General Timber and specifically Greg Williams, just like their fencing.....has truly stood the test of time.
Oct 12, 2017
Seven years ago we built almost a mile of four board, white oak pasture fence at our farm in Granville County, N.C. We found NuTone Painting Systems through General Timber, Inc. and contracted with them to coat our fence. They told us we could expect about seven years before needing to repaint. That was a good estimate. We just had Greg William's crew out again. As with our first experience seven years ago, we got a quality job. With all the maintenance to handle in the country, it is nice to have a reliable resource to call upon and know they will perform.